Natalie Hayden
Last updated: November 2023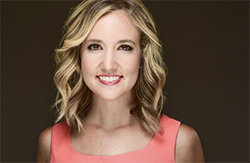 Natalie (Sparacio) Hayden, is a former TV news anchor with Crohn's living in St. Louis. Her mission in life is to be an advocate for those battling inflammatory bowel disease and to show that a chronic illness doesn't have to dull your sparkle. Natalie was diagnosed with Crohn's in 2005.
Through the years she's endured several hospitalizations, countless medications and flare ups. In August 2015, she underwent bowel resection surgery that involved the removal of 18 inches of her intestine. While it was a difficult chapter in her disease battle, it truly gave her a fresh start and enabled her to reach remission.
After 15+ years of suffering in silence while reporting and anchoring the news on television, Natalie decided to share the news that life outside of the studio was anything but perfect. Now, more than two years out of the "business" as a newlywed and a mom, she's sharing her journey with the hope of helping the five million others around the world who battle inflammatory bowel disease on a daily basis.
Her blog, "Lights, Camera, Crohn's: An Unobstructed View" covers everything from overcoming struggles to celebrating small victories. Natalie's focus is to inspire others and connect with those battling IBD in an honest and transparent way. As a passionate health advocate and journalist, she strives to show that there is more to life than your diagnosis and illness.
Click here to read all of Natalie's articles on Depression.mental-health-community.com.